I love the scene in Shrek where Shrek explains to Donkey that, "Ogres are like onions, they have layers". It's a great analogy that plays upon itself since Donkey interjects guesses as to what this means, adding unnecessary layers to the conversation.
Often, technology adds layers of complication by the nature of adding something new to what we have done before. For instance, it used to be that if you went to someone's house, you could turn on their TV and it was a simple task to watch a TV show. But this summer I spent a number of nights couch surfing with friends and family and it seemed that everywhere I went I needed a guide book to tell me which remote turned on the TV, DVD, PVR and/or satellite receiver. "First turn the TV on with this remote, then you need to select the input with this remote, then you change the satellite stations with this remote." Layers, layers, layers!
– – –

I'm at a small school with under 200 kids. To start this year off, my senior teachers and I have just implemented a 1-1 Bring Your Own Laptop program at our school for our 50 senior students. One key thing that I spent a fair amount of time thinking about was, "What Learning Management System (LMS) do I think we should use?" The answer I finally came up with is 'NONE'!
Well, that's not exactly true, but what I actually decided to do was to remove an unnecessary layer of management, or rather, I decided to remove an unnecessary layer of tools needed to be learned before my teachers and students could start talking advantage of the power of being one-to-one.
Instead of Moodle or Sharepoint or any other LMS, my 3 teachers and I are signed up with Edublog Pro accounts. This gives us more than enough freedom to sign students up for ad-free blogging (and ultimately e-portfolio) accounts. We're now adding student blogs to Google Reader and our next step is to set up specific blog categories for our students so that their work becomes more easily searchable in our Readers.
Our teachers are going to use the blogs in slightly different ways, but two key things are important:
1. Sharing. We are sharing the links to our Google Reader folders (one for each grade), and we will be posting these on our blogs and making it easy for students to access other students' work. Commenting and contributing to each others' work will be an expectation in our classes. As students get familiar with sharing, we hope to extend this beyond the school… though it already is, as all the blogs are open to public viewing.
2. Documenting. We will use our blogs for classes across the curriculum and we will have students create blog pages as a form of digital e-portfolio(s).This isn't about polished work, it is about a digital record of student learning. I love Jan Smith's quote on her class blog, Huzzah!:
"Please notice our successes, not our mistakes. Our blog is a invitation to see what we are up to. Some of our work will be polished, and some will be in draft form. Please honour our attempts."
We are documenting our learning journeys and sharing them… with the world!
To get students started with blogging, I first offered sign-up instructions.
Then I created a challenging scavenger hunt that helps teach students to:
• Create their own blog posts.
• Link to a blog post
• Add images to their posts (and give appropriate credit for them)
• Comment on a blog
I've done this because all 3 of my teachers are new to blogging and so I want to support them as well as their students. The scavenger hunt is something I've done before, as a means to help students learn how to appropriately use the digital tools we plan to use.
We've had a few challenges though, as things don't always work as they should (especially here in China). Despite checking it out first, most students could not access the photo sharing site I linked to, and we are temporarily shut out of Edublogs right now. There are often issues that we must face when dealing with technology… there can be layers of challenges on top of the challenges learning itself provides. This is why it is so important not to add unnecessary layers to what we do!
Throughout the year teachers may use wikis, mind-mapping tools and many other interactive/social websites for different projects, but through the use of Edublogs and Google Reader, we have the tools we need to manage, track, link to, and store what our students do online. I have not looked into them yet, but Edublogs even has discussion forums that we might use as well. It is our blogging and portfolio tool and also our learning management tool. So, why add another layer to this? Why add an additional LMS? This would just be another layer that both teachers and students need to learn in order to share what they are already sharing. It's an add-on that adds on more stress and greater challenges rather than something that serves us. Learning Management Systems are not (yet) user-friendly enough. They consume both training and learning time.
For a big organization a LMS might make sense, but for a classroom or a small school, why add an unnecessary layer?
_____
Related to the topic of sharing, see:
Dean Shareski on Sharing: The Moral Imperative and David Cormier on being Open and Connected. Also, for administrators and school leaders, check out Connected Principals.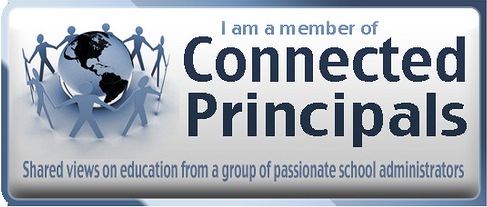 We live in an amazingly connected world and there is tremendous value in administrators, teachers and students sharing what they do.